One member, one vote results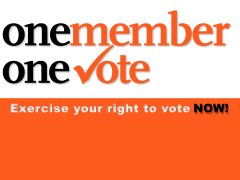 This year, members were asked to vote on three governance items leading up to the 94th Annual General Meeting (AGM). Voting closed on April 11 and the results were shared the following day at the AGM.
The results are as follows:
- 85 per cent in favour to the amendments to RNAO bylaws to incorporate qualification for president-elect
- 95 per cent in favour to the appointment of KPMG as RNAO's auditors for fiscal year end 2019
- 2019 candidates listed on the ticket of nominations for the board of directors:
a) Anita Tsang-Sit, Region 4 representative on the 2019-2020 board of directors
b) Julie Rubel, representative of the interest group chairs on the 2019-2021 board of directors
Following the close of voting at noon on April 11, the chief scrutineer was the only person with access to the online voting results. Any proxy votes received by 8:30 a.m. on April 12 were added to the online voting results by the Chief Scrutineer. None of the results were shared at any time prior to the annual general meeting.