One member, one vote is now open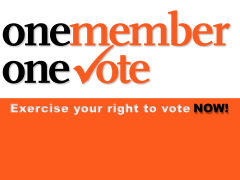 As an RNAO member, you play an important role in governance issues that affect the current and future direction of your professional association. One member, one vote is an important way to shape the future of RNAO.
This year, members are asked to cast their vote on three items:
1. Amendments to RNAO bylaws to include qualification for president-elect.
2. Approval of KPMG as RNAO's auditors for the 2019 fiscal year end.
3. 2019 candidates listed on the ticket of nominations for board of directors.
Detailed information on items that require a vote by all members can be viewed here: https://myRNAO.ca/rnao_election
Here's how to vote:
In an email sent from RNAO on March 26, 2019, you will be able to access the link to vote. If you didn't receive the email, we urge you to vote now by accessing this link.
Results of the vote will be announced at RNAO's Annual General Meeting (AGM) on April 11-13 at the Toronto Hilton Hotel. Register today.