October is membership renewal month: Renew today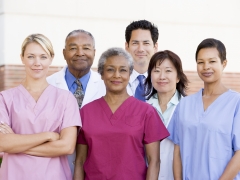 If you have already renewed your membership, we thank you for being part of RNAO. Together, we speak out for nursing and health.
If you have yet to renew or wish to rejoin, please see our member fees online to see what discounts you can apply for:
$256.36 if you are an RN or an NP that works full-time
$87.83 if you are an RN or an NP that works part-time (15 hours less per week).
New grads join for free
First-year undergraduate nursing students join for free from Oct. 18 to Oct. 30 (This includes first-year students in bridging or accelerated bachelor degree programs. Go to myRNAO.ca/join and use the coupon code "FirstYear" to get the free offer)
Renew at myRNAO.ca/join or use the package you find in your mailbox.
We invite you to also share your RNAO pride by taking a photo of yourself with your RN, NP or nursing student pin and posting it on social media with the hashtag #RNAOmember.
As a member you enjoy many exclusive automatic benefits including professional liability protection (PLP), leadership workshops, network opportunities, career counseling services and receiving RNAO's award-winning publication Registered Nurse Journal.
Sign up for continuous membership and your membership gets renewed automatically.
Questions? Call a membership associate at 416-599-1925 or 1-800-268-7199.