Nursing Week is right around the corner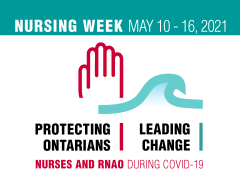 Nursing Week is the annual celebration of our profession that always coincides with the birthday of Florence Nightingale, the founder of modern nursing, on May 12.

This year, it will be held May 10-16 and RNAO will be celebrating with the theme Protecting Ontarians and Leading Change: Nurses and RNAO during COVID-19. RNAO is proud to recognize all nurses for the quality of care they provide to patients, clients and long-term care residents. From the bedside to the classroom and the boardroom, nurses make Ontario, our country and the world a healthier place.
RNAO has its own Nursing Week message of admiration and gratitude. All members will be receiving it in their inbox, but you can also see it in our Nursing Week portal. Follow us on Twitter to see the latest on Nursing Week and use the #NursingWeek hashtag. For a list of events that RNAO is hosting, please see our Nursing Week portal.