Nursing Week 2019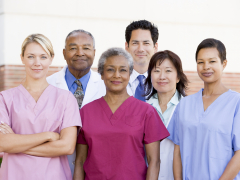 May 6-12, 2019
Nursing Week is the annual celebration of our profession.
It is held every May to coincide with the birthday of Florence Nightingale, the founder of modern nursing.
Our theme this year is Speaking out for nursing. Speaking out for health.
The Registered Nurses' Association of Ontario (RNAO) is proud to recognize the dedicated registered nurses and nurse practitioners who provide quality care for their patients, clients and long-term care residents. From the bedside to the classroom and the boardroom, they make the world a healthier place.
This year during Nursing Week, RNAO will celebrate several events including Take Your MPP To Work where you with RNAO home office staff can organize visits with your politicians throughout May and early June. In addition, RNAO will host the Health Professional Expo where you can learn resume and interview tips and network with health professionals from a range of sectors. Stay tuned for more details.
If you are organizing an event in your chapter or region, please send details and photographs to mzych@RNAO.ca. We may publish your photographs in the Registered Nurse Journal and/or post them on our website, social media and the next In the Loop.