Nursing student transitions into the workplace: Experiences and supports: Register for webinar on Aug. 18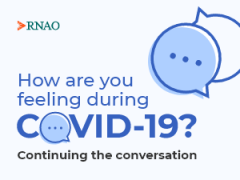 COVID-19 has disrupted nursing education. Hands-on clinical placements have been replaced by simulation, in-class learning has gone virtual and students are completing their education at a time when all energy is focused on the global pandemic.
Thousands of Ontario nursing students will be entering the nursing workforce at a critical time in history for health care: one where structural inequities and system failures have been brought to the spotlight, and where nurses, exhausted from relentless waves of the pandemic, are facing burnout and considering leaving the profession in larger numbers than usual. However, the pandemic has also raised the centrality of our profession and reinforced that without nurses the health-care system will collapse.
RNAO is issuing a call to ensure the next generation of nurses thrive in the profession.

During this heart-to-heart nursing forum, you will hear from nursing students, new grads and educators who will discuss the following questions:
What has it been like being a nursing student during this time? What are your hopes, needs and concerns?
What is required to support students in their final year as they transition into the workforce so they have an exciting and long career in nursing?
Register now for our webinar on Aug. 18 from 2:30-4 p.m. ET.
In our last webinar on June 16, participants heard from RNAO staff and members who are active on social media and the best practices and top tips they use. RN and RNAO board member Debra Lefebvre, RNAO CEO Dr. Doris Grinspun, RNAO's director of communications Marion Zych, communications officer/writer Madison Scaini shared their tips and ideas on how to increase your Twitter presence. Web and social media editor Rene Dunkley gave a presentation on how to set up a Twitter account and play an active role on Twitter. For more on the importance of social media, please read RNAO CEO Dr. Doris Grinspun's blog.