Nurses welcome news of health system reform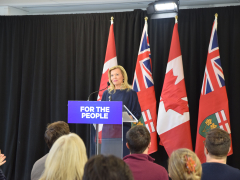 The Ontario government's blueprint to transform the health system to be more responsive to patients is being welcomed by RNAO.
The changes, announced Feb. 26 by Health Minister Christine Elliott, will create a central agency that will oversee all aspects of the health system called Ontario Health. Under that umbrella, Ontario Health Teams will organize and deliver coordinated services for patients, inclusive of primary care, hospitals, home and community care, long-term care, and mental health and addiction services.
RNAO is optimistic that Ontario Health Teams will deliver integrated care that has been missing in many parts of the province and for which RNAO has long advocated.
"This announcement marks the beginning of much needed change in the health system and the continued role registered nurses (RNs) and nurse practitioners (NPs) must play in primary care and improving access for patients," said RNAO CEO Doris Grinspun.
An important step to achieve this will be locating the 4,500 RNs currently working in Local Health Integration Networks (LHIN) into primary care - respecting their ONA agreement. They will be key to coordinating care with patients in the communities, and helping Ontarians navigate the complexities of our system.
For more information, please read our media release as well as our 2012 landmark report, Enhancing Community Care for Ontarians. To see news coverage about the health system reform announcement with Grinspun quoted, please see below: