Nurses vote for a healthy Canada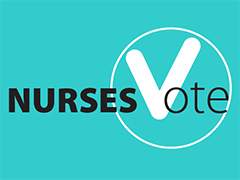 With the federal election less than a month away, nurses want all candidates running in the federal election to know that health and health care are central to Canadians.
A platform for a healthy Canada highlights issues affecting people's health as the country prepares for the vote on Oct. 21.
The platform's nine recommendations cover four areas: access to care, social determinants of the health, the environment and fiscal capacity.
Recommendations include expanding the country's publicly funded, not-for-profit health system by setting up a national pharmacare program and covering dental care and home care services.
RNAO also wants the role of the national chief nursing officer re-instated to help influence federal health policy and tackle serious health human resource needs Canada faces.
Please read our federal election platform online. Check out our social media campaign #nursesvote to see what members are voting for on Oct. 21 and feel free to share it on your social media channels.

RNAO members are also running for office. Aisha Jahangir is an RN with 21 years of service in labor & delivery and mental health. She is running as an NDP candidate for the federal riding of Guelph. Allison Brown is an RN with 30 years of experience in a diverse array of settings in our health-care system. She is running as an NDP candidate for the federal riding of Dufferin-Caledon.

If you know of any other RNAO member running for election – in any of the political parties – let us know as we will make sure to send their materials to RNAO members in their ridings. Please send details to Kdieleman@RNAO.ca.