Nurses share their successes during Nursing Week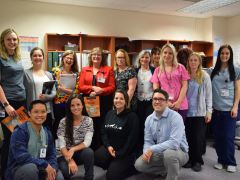 To all RNs, NPs, and nursing students who work and study hard to keep people healthy and care for them when they are sick or dying, we thank you. Your commitment to Ontarians and the profession extends far beyond your workplaces and educational institutes.
This year, RNAO celebrated Nursing Week with several events that recognized the expertise and excellence nurses and nursing students bring to patients, families and communities across Ontario and beyond.
Five of RNAO's Best Practice Spotlight Organizations (BPSO) – Humber River Hospital Toronto, The Salvation Army Toronto Grace Health Centre, Lakeridge Health, Maple View Lodge in Athens, Ont. and Perley and Rideau Veterans' Health Centre – hosted events to showcase their success incorporating the latest health research and evidence into their clinical practice with best practice guidelines (BPG). From Toronto to Ottawa, BPSOs highlighted the BPGs they have been using, which focus on a range of topics such as falls prevention, pain management, prevention of elder abuse wound care and transitions in care. Please read our media advisory to find out more and see our FB gallery.
RNAO's Take Your MPP To Work also kicked off during Nursing Week and saw visits from 27 MPPs including interim Liberal Leader John Fraser, NDP Health Critic France Gélinas and PC parliamentary assistant to the Minister of Agriculture, Food and Rural Affairs Randy Pettapiece. To see photos from the visits, please see our FB gallery. If you would still like to bring your MPP to your workplace, please contact Kyle Dieleman at kdieleman@RNAO.ca.

RNAO also held its annual Health Professional Expo where RNs, NPs and nursing students networked with potential employers and heard from nursing leaders. This year, RNAO hosted a conversation café where a mobile crisis intervention nurse, correctional nurse, and several nurse practitioners spoke about their fields. If you would like to learn more about the different nursing careers available to you, check out the expanded RNCareers.ca today and see the site's new design and features. You will also be able to upload your resume and position yourself to take hold of great opportunities.