Nurses share their successes during Nursing Week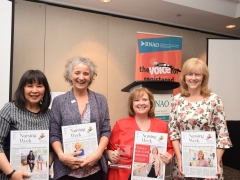 To all RNs, NPs, and nursing students who work and study hard to keep people healthy and care for them when they are sick or dying, we thank you. Your commitment to Ontarians and the profession extends far beyond the workplace and educational institute.
This year, RNAO celebrated Nursing Week with several events that recognized the expertise and excellence nurses and nursing students bring to patients, families and communities across Ontario, and beyond.
Five of RNAO's Best Practice Spotlight Organizations – The Perley and Rideau Veterans' Health Centre, Humber River Hospital, Southlake Regional Health Centre, St. Michael's Hospital, and Grand River Hospital – hosted events to show the success they have been having incorporating the latest health research and evidence into their clinical practice with best practice guidelines (BPG). From Ottawa to Newmarket, BPSOs highlighted the BPGs they have been using, which focus on a range of topics such as managing pain, preventing falls, preventing childhood obesity, and ensuring successful breastfeeding. Please read our media advisory to find out more.
Take Your Politician To Work (changed from Take Your MPP To Work given the provincial election) also kicked off during Nursing Week and saw visits from 50 politicians including Premier Kathleen Wynne, PC Health Critic Jeff Yurek and NDP Health Critic France Gelinas. To see photos from the visits, please see our Facebook gallery. RNAO has already helped organize 35 visits. If you would still like to participate, please contact Peta-Gay Batten at pgbatten@RNAO.ca
This year, given the forthcoming elections, chapters and regions also hosted seven all-candidate debates and earned coverage in the media. Debates centred on important public issues that RNAO raised in its election platform Improving health for all, released earlier this year. The platform provides recommendations to parties in five key areas: access to nursing care, Ontario's health system, living standards, the environment and fiscal capacity.
Lastly, RNAO held its annual Health Professional Expo where RNs, NPs and nursing students networked with potential employers and heard from nursing leaders. Toronto Star's 2018 Nightingale Award was presented to winner RN Sue Coffey. Plaques were also presented to the three honourable mentions: RNs Caron Gan, Catharine Petta, and Karen Smith