RNAO says throne speech advances A Just Recovery for All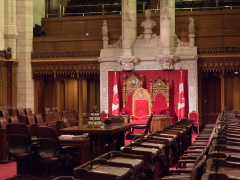 Nurses' voices are being heard. In the federal government's recent throne speech, important policy initiatives that RNAO is advocating on your behalf were mentioned. They focus on two priority groups hit hardest by COVID-19: the elderly, especially those living in long-term care (LTC) homes and people who experience homelessness.
Governor General Julie Payette delivered the Speech from the Throne on Sept. 23, opening a new session of parliament and outlining the government's agenda.
Included in that agenda is a promise to create national standards for long-term care (LTC). RNAO welcomes the announcement, and urges the prime minister to ensure those standards are modeled after RNAO's Nursing Home Basic Care Guarantee. The guarantee ensures that each LTC homes provides a minimum of four worked hours of direct nursing and personal care for each resident per 24 hours and follows a prescribed staff mix formula.
The guarantee would honour the more than 1,800 lives lost in Ontario's LTC homes and the 5,324 reported number of LTC deaths in Canada reported in June due to the pandemic.
We are also pleased to hear the government's pledge to eliminate chronic homelessness. RNAO has long advocated for a community-based response for people who experience homelessness and joined the global movement A Just Recovery for All to shine a light on the actions needed to build a better and more inclusive society and seal the cracks of inequity exposed during the pandemic.
While nurses believe the government is heading in the right direction, RNAO is still urging Ottawa to reinstate the role of the National Chief Nursing Officer (CNO), which we lost during the Harper government. Having someone in this position will result in better human resources and deployment planning, movement on expanded scope of practice for RNs and NPs and help root the health system in primary care.
For more information on the Speech from the Throne, including RNAO's reaction, please read our media release.