Nurses march for diversity, inclusivity and equality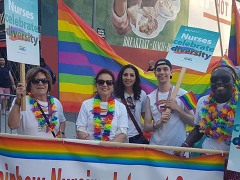 Recognizing the history, courage and diversity in the province, members of RNAO's Rainbow Nurses Interest Group took to the streets on June 23 for the 39th-annual Toronto Pride Parade.
Holding flags and signs of support, RNAO members joined thousands of marchers in this event and continued their long-standing tradition of encouraging healthy communities through equality and respect.
RNAO members are also taking part in Pride events across the province being held throughout the summer. For a full list of scheduled Pride festivals across the province, please visit Ontariotravel.net.
If you have attended a Pride event this year and would like to share your photos, please send them to valarcon@RNAO.ca.
RNAO and RNIG have been long-time advocates for the province's LGBTQ2+ communities and are committed to diversity and human rights. Please read RNIG's homepage and RNAO's position statement on respecting sexual orientation and gender identity.