Nurses at Queen's Park call for end to hallway health care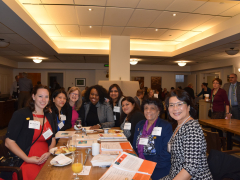 More than 150 RNs, NPs and nursing students spoke out for nursing and health care at RNAO's 19th Queen's Park Day on Feb. 21, 2019.
Engaging with 50 MPPs across the province during breakfast meetings, nurses discussed the need for a renewed focus on primary care, a change that will prevent and better manage disease in the community and reduce a logjam in hospitals that strands patients in hallways.
This can happen through locating in primary care the 4,500 registered nurses who now work as care co-ordinators for the local-health integration networks. RN care co-ordinators located in primary care will also help Ontarians better navigate the health system.
Please read our media advisory to learn more
Other priorities that were raised by members were independent RN prescribing, increasing access to care by fully utilizing NPs, patient-centred health records, transforming long-term care and much more. To see the full list of what was discussed, please see our backgrounders.
Speakers for the afternoon included Health Minister Christine Elliott, NDP leader Andrea Horwath, Liberal leader John Fraser and Green Party leader Mike Schreiner. To see their presentations, please see below.