Nurses to bring their voices to Queen's Park on Feb. 22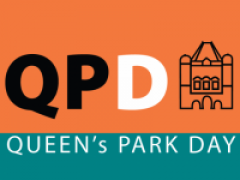 More than 130 RNs, NPs and nursing students are gearing up to speak out for nursing and health care at RNAO's 18th Queen's Park Day on Thursday, Feb. 22.
Engaging with more than 50 MPPs across the province during breakfast meetings, nurses will discuss the priorities important to them such as increasing access to care by fully utilizing NPs, stopping RN replacement, expanding the province's OHIP + plan/program and funding oral health care for adults and seniors living on low income. To see the full list of what we will be discussing, please see our backgrounders.
The day will also include speeches by Health Minister Eric Hoskins, PC Health Critic Jeff Yurek, and NDP Health Critic France Gelinas. During the morning, members will also hear from RNAO President Carol Timmngs and CEO Doris Grinspun at a press conference to present the association's 2018 provincial election platform (for more details, see our media advisory).
To learn more, please follow us on Twitter and Facebook.