Nurses' Health Program: a voluntary program for Ontario nurses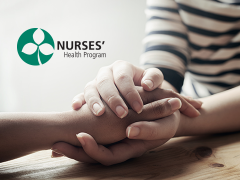 Nurses who are struggling with substance abuse and/or mental illness do not have to face this challenge alone.
The Nurses' Health Program (NHP) is a voluntary program that encourages Ontario nurses to seek treatment for substance use and/or mental health disorders that may affect their ability to practise nursing safely. The NHP is supported by RNAO, College of Nurses of Ontario, Ontario Nurses' Association and Registered Practical Nurses Association of Ontario, and has specialized programs that recognizes nurses' unique needs as a health-care professional. The customized treatment plans are designed to support nurses to practice or return to practice nursing safely.
To find out more about the NHP and whether its right for you or a nursing colleague, visit nurseshealth.ca.