NurseInsure for internationally educated nurses' safe practice experience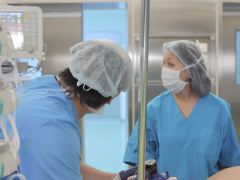 RNAO is very happy to provide the professional liability insurance through its NurseInsure program for internationally educated nurses (IEN) to participate in the Centre for Internationally Educated Nurses's (CARE) Safe Practice Experience Pilot. The pilot allows IENs to meet their outstanding safe practice requirement and complete their College of Nurses of Ontario registration.
The Safe Practice Experience Pilot is an enhanced experience, in collaboration with the University Health Network (UHN), for IENs who have completed all registration requirements but for whom their "Evidence for Nursing Practice" expired after February 2020 when the pandemic hit.
To apply for NurseInsure to participate in the Safe Practice Experience Pilot, go to the online application form to create a new account to start the process. Include the following answers to these two questions:
What is your registration status with CNO? Check "Student"
What is your employment information? Type "International Educated Nurse - Undergraduate Nursing Student Associate - practice requirement"