NP Knowledge Exchange Symposium a success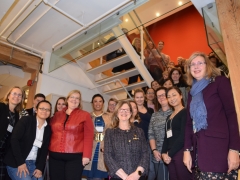 Marking the fifth-annual Nurse Practitioner Knowledge Exchange Symposium, 50 NPs and other health system leaders came together on Nov. 20 to discuss ways to enhance access to care through full NP utilization.
Hearing from Helen Angus, deputy minister of the Ontario Ministry of Health and Long-Term Care (MOHLTC), participants learned about current challenges and opportunities to advance the health of Ontarians and of our health system, and discussed the importance of NPs as leaders and clinicians.
Additional notable sessions included a panel discussion on child and youth mental health and an update on the opioid crisis. Participants also heard about the legislative, regulatory and policy changes affecting the NP role and their practice, and RNAO's advocacy to increase NP utilization.
The symposium was co-chaired by Doris Grinspun, CEO of RNAO, and Larissa Gadsby, co-chair of the Nurse Practitioner Interest Group (NPIG).
At the symposium, RNAO announced a new exciting initiative. On March 19-21, 2019, RNAO will host the inaugural NP Institute. The NP Institute is an opportunity for NPs to find common cause with their colleagues, discuss ways to expand the critical role they play, enhance their ability to advocate for change, and foster connections with political and health care leaders.
To join NPIG, please visit NPIG's membership page.