NP Knowledge Exchange Forum a success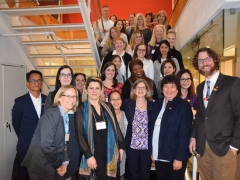 Marking the fourth-annual NP Knowledge Exchange Forum, NPs, nursing leaders and government officials came together on Nov. 29 to discuss ways to enhance access to quality care through full NP utilization.
Hearing from the Ontario Ministry of Health and Long-Term Care (MOHLTC) and a panel on the opioid crisis, participants learned about strategies to prevent opioid addiction and overdoses as well as the positive results from the Moss Park Overdose Prevention Site.
Notable guests included co-chairs Larissa Gadsby, a nurse practitioner in paediatric neurology at McMaster Children's Hospital, and Aric Rankin, primary health care nurse practitioner for De dwa da dehs nye>s Aboriginal Health Centre as well as government officials such as Sharon Lee Smith, deputy minister, policy and transformation of the MOHLTC.
Participants also heard about the legislative, regulatory and policy changes affecting NP practice and RNAO's advocacy for full NP utiliziation. In addition, RNAO welcomed a new interest group: the Nurse Practitioner Interest Group. To learn more or to join, please visit RNAO's membership page.