NP Institute is a success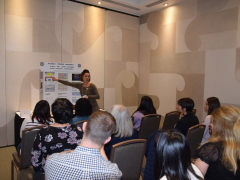 RNAO's inaugural NP Institute took place March 19-21, 2019 in Niagara-on-the-Lake with more than 100 NPs and health leaders in attendance.
The institute was a two-and-a-half day in-residence experience in which NPs networked with colleagues from multiple health sectors across Ontario and participated in engaging and exciting presentations with health system and policy leaders.
Highlights included a conversation with Helen Angus, the deputy minister for the Ministry of Health and Long-Term Care (MOHLTC), about Ontario's current health-care restructuring. Participants also heard keynote addresses from Michelle Acorn, the provincial chief nursing officer for the MOHLTC, and Louise Kaplan, an advanced registered nurse practitioner and inductee in the Washington State Nurses Association Hall of Fame.
Participants engaged with diverse health system leaders – including NPs – representing all sectors on panels and response panels. Speakers and participants explored topics such as utilizing NPs to the fullest and discussed how our health system can best meet the complex needs of aging populations. Attendees also ended the event by discussing NP research, the implication of RN prescribing on NPs and setting the agenda for the future.