Leading Change Toolkit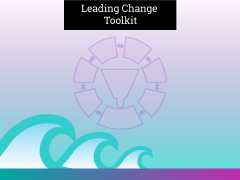 A revolutionary resource to inspire health providers to make lasting change to their practice was launched on Oct. 5.
The Leading Change ToolkitTM is an online implementation resource that provides change agents – persons developing knowledge and skills to make a positive difference – and change teams with updated evidence, tools and strategies to facilitate sustainable change and social movement action in their health organization.
The toolkit features two complementary frameworks to support the uptake and sustainability of knowledge which, when combined, accelerates change teams' success:
the Social Movement Action (SMA) framework – a new framework that integrates social movement action to create lasting change for improvement
the Knowledge-to-Action (KTA) framework – a dynamic systematic and structured process model that guides a change process through seven action cycle phases
After three years of rigorous development, RNAO in partnership with Healthcare Excellence Canada (HEC) launched the Leading Change Toolkit during a national launch and webinar. With more than 150 participants from Canada and abroad, the launch was a success and featured presentations from members of the toolkit's development team, expert panel and from HEC, as well as a live demo of the toolkit's website and a discussion on how it will support transformational change. If you missed the launch, it's available to watch on RNAO's YouTube channel.
For more information about the toolkit, watch this video.