New SIS guideline now available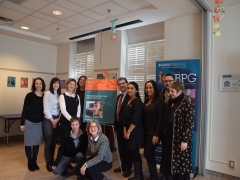 Now more than ever, communities are opening supervised injection services (SIS) to address Ontario's growing opioid crisis.
According to Public Health Ontario, more than 850 Ontarians died of opioid-related causes in 2016, up 136 per cent from 2003. Unfortunately, the numbers have continued to increase.
To ensure life-saving services are delivered effectively and provide equitable access for people who inject drugs, RNAO released a new best practice guideline (BPG) at a press conference on Feb. 28.
RNAO's Implementing supervised injection services BPG features 11 recommendations covering a range of topics, including integrating peer workers and health and social services into SIS programming, and aligning future SIS locations and operations to the needs of the local population.
The guideline also recommends that peer workers be integrated into SIS programs and that people with lived experience deliver SIS education to health-care workers and students.
To view the guideline and download it for free, visit RNAO.ca/bpg/guidelines/implementing-supervised-injection-services