New nursing interest group for nurse practitioners: Join now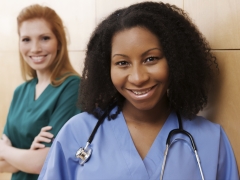 A new interest group dedicated to propelling the role of NPs in the province's health system is now available for you to join.
Launched at RNAO's fourth-annual NP Knowledge Exchange Forum on Nov. 29, the Nurse Practitioner Interest Group (NPIG) provides members with a venue to network and collaborate, advances the voice of NPs within RNAO and fosters leadership and advocacy capacity building among NPs,
The group is chaired by Larissa Gadsby, a nurse practitioner in paediatric neurology at McMaster Children's Hospital and Region 4 Representative on RNAO's board of directors and Mae Katt, a primary health care nurse practitioner for the community of Temagami First Nation
To join NPIG, you must be a member of RNAO. There is no additional fee for the 2017-18 membership year. To learn more about the group or to join NPIG, please visit RNAO.ca/NPIG or call 1-800-268-7199.
RNAO has spent decades supporting NPS and has been the catalyst for major developments in the NP role. These include the legislated NP role in 1998, launching of Ontario's first NP-led clinic in Sudbury in 2007 and 25 additional ones in subsequent years, attending NPs in LTC Homes, and enabling NPs to prescribe controlled substances in 2017. To learn more about our advocacy for NPs, please read our media release.