New NP task force announced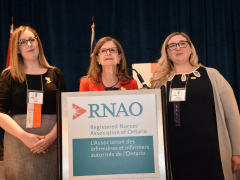 On April 12, RNAO CEO Doris Grinspun announced the creation of a Nurse Practitioner (NP) Task Force.
The NP Task Force will envision the future of NPs in Ontario's health-care system in order to optimize, expand and grow the NP role and workforce across sectors and settings. The time is now for RNAO and NPs to shape the future given the current opportunities for health system transformation and an expanded scope of practice for NPs.
The task force will commence over the summer by identifying stakeholders and conducting an environmental scan. RNAO will be seeking to engage all Ontario NPs through a consultation process.
The task force contact at RNAO is nursing policy analyst Andrea LeBlanc-Millar. If you are interested in learning more, please contact the NP Program.