New NP mentorship program: Apply today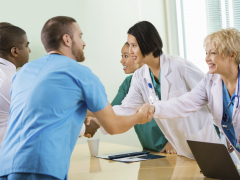 While transitioning from the role of an experienced RN to novice NP, many NPs may find their new role to be challenging and sometimes a bit overwhelming.
The challenges of navigating a new role are often compounded by other factors such as practicing in geographic isolation or being the only NP within an organization.
To make new NPs feel more comfortable, RNAO has launched the NP Mentorship Program. As part of the program, two NPs are paired up: one with more experience (the mentor) and one with need of support and encouragement (the mentee).
As the mentor, you will help the mentee navigate the next phase of their career as well as provide leadership, patience and caring. As a mentee, you will receive guidance and help answering your questions related to the NP role.
Each mentorship pair will establish their individual relationship terms, taking into account the unique needs of each pair.
For more details, please see the attachment below.
Please contact us if you are interested in becoming a mentor or have any questions.