New guideline recommendations for perinatal depression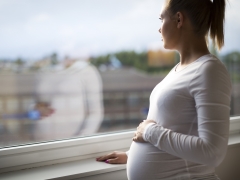 RNAO is pleased to announce the release of new evidence-based recommendations that will provide nurses and other health providers with the necessary tools to help those at risk for or suffering with perinatal depression.
RNAO's Assessment and Interventions for Perinatal Depression (second edition) BPG features 16 recommendations covering a range of topics including better pre and postpartum care, more co-ordinated supports and greater access to mental health services.
Perinatal depression is a term used to describe depression that can occur during pregnancy or up to one year following childbirth. Symptoms can include frequent crying, trouble sleeping, fatigue or low energy levels, changes in appetite, increased anxiety, and difficulties feeling connected to a developing baby or child.
Given the risks, the guideline recommends that routine screening be integrated into prenatal and postpartum care. Those diagnosed with the disorder should also have access to psychotherapies such as cognitive behavioural therapy or interpersonal therapy.
To view the BPG and download it for free, visit https://rnao.ca/bpg/guidelines/assessment-interventions-perinatal-depression.
On Tuesday, Nov. 20, RNAO will be hosting a one-hour webinar to describe the guideline's development process, highlight key recommendations, and describe implementation supports, including evaluation measures. The guideline development lead and members of the expert panel will be speaking at the webinar.
Print copies of the BPG will be available to order in late fall 2018 at https://shop.rnao.ca/.