New Grads: your membership is free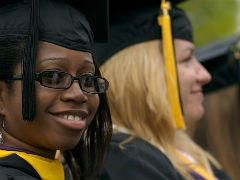 Thanks to the generosity of HUB International, RNAO's home and auto insurance provider, new graduates from undergraduate nursing programs (including bridging and accelerated bachelor degree programs) can join RNAO for free.
If you are currently an undergraduate student member of RNAO, please give us a call so that we can upgrade your membership for you.
There's never been a better time to belong to RNAO. The association has been a strong voice for nurses and the profession during the COVID-19 outbreak.
If you have any new grad friends or have new grads in your workplace, invite them to sign up today by giving us a call at 1-800-268 7199 or by visiting myRNAO.ca/join and choosing "New Graduate from undergraduate nursing program" from the drop-down list of categories.
New graduate membership automatically includes professional liability protection (PLP).