New feature: RNAO's weekly updates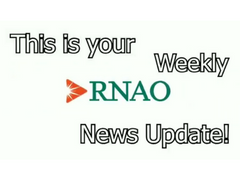 Every week, RNAO will share weekly update videos via Twitter to keep members updated on RNAO's current advocacy, projects and initiatives. The updates provide a brief overview of the many activities RNAO is involved with, such as media interviews, Action Alerts, webinars, campaigns and publications. They also feature important nursing and health related news.
In September, the following weekly updates were shared:
Sept. 12: RNAO's call for safe zones, the upcoming federal election and a new membership testimonial video from NP Aric Rankin
Sept. 19: RNAO's #FullyVaccinated hall of fame, the urgent need for safe zones and RNAO's federal election platform
Sept. 26: The 2021 federal election results, COVID-19 vaccine certificate and RNAO's call for #MandatoryVaccination for all health-care workers and education staff
Follow RNAO on Twitter and keep an eye out for the weekly updates posted each week.
RNAO is also thrilled to introduce Small Talk, a new segment to facilitate conversations about current health-care issues. The first episode features RNAO CEO Dr. Doris Grinspun discussing the Canadian federal election, as well as the association's policy platform. Watch the full episode on RNAO's Youtube channel and share RNAO's tweet.