New edition of best practice guideline available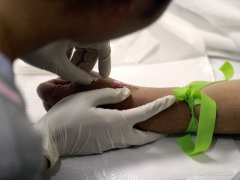 RNAO is proud to release the best practice guideline (BPG) Vascular Access, Second Edition.
This new edition provides evidence-based recommendations and resources for nurses and the interprofessional team related to the insertion, assessment and maintenance of vascular access devices (VAD) in the infant (newborn – one year), pediatric (one – 18 years) and adult populations (18 years and older). The BPG also addresses the following: VAD education, vascular access specialists, peripheral VAD management, ultrasound-guided insertion, blood draws and pain management.
The evidence-based recommendations in this BPG are applicable to all practice settings where care is provided for persons with VADs (such as, but not limited to, primary care, rehabilitation, long-term care, acute care and community care), and it is to be used for all health providers who insert, assess and/or maintain VADs (e.g., RNs, NPs, RPNs and other health-care workers). This guideline replaces two RNAO BPGs released in 2004 and 2005: Assessment and Device Selection for Vascular Access and Care and Maintenance to Reduce Vascular Access Complications.
To download the Vascular Access, Second Edition BPG for free, visit: RNAO.ca/bpg/guidelines/vascular-access-second-edition