New BPG: Adopting eHealth solutions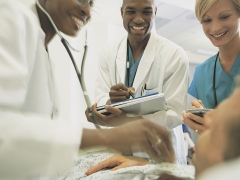 As we head towards an increasingly digital world, health-care groups are recognizing the potential of eHealth to improve the flow of information, support the delivery of health services and the management of health systems.
RNAO's latest best practice guideline, Adopting eHealth Solutions: Implementation Strategies, provides nurses, health-care executives and other health professionals recommendations to lead and support the implementation and adoption of eHealth solutions.
Recommendations include how to develop or enhance an eHealth curricula and strategies to lead, facilitate or support eHealth initiatives at the regional, jurisdictional, or national levels.
You can download the guideline for free at RNAO.ca/bpg/guidelines/ehealth-solutions. The guideline will be available for purchase in the coming weeks.
For more information, please read the Canadian Healthcare Technology article or our media release.