National Day for Truth and Reconciliation: Sept. 30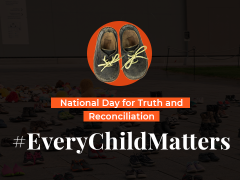 Sept. 30 marks the inaugural federal statutory day recognizing truth and reconciliation of Indigenous peoples and the 94 calls to action from the Truth and Reconciliation Commission report.
This day, known as the National Day for Truth and Reconciliation, provides an opportunity for Canadians to recognize and acknowledge the truth about residential schools and to recognize their devastating impact on Indigenous communities. Although it isn't recognized as a provincial statutory holiday in Ontario, RNAO encourages all members to take time during this day to reflect, learn and reach out to Indigenous colleagues as allies.
RNAO is committed to supporting Indigenous communities and maintaining its strong relationship with its Indigenous partners, including Nishnawbe Aski Nation (NAN), Chiefs of Ontario (COO) and its Indigenous-focused Best Practice Spotlight Organizations (BPSO). RNAO will be holding an afternoon education session for its staff to discuss the history of residential schools as well a session to encourage staff members to develop ways RNAO contributes to reconciliation by creating a workplace environment that provides cultural safety and understanding of issues Indigenous communities face.
If you're interested in fostering and advocating for nursing practice that follows the Truth and Reconciliation Commission of Canada's calls to action, we encourage you to join RNAO's new Indigenous Nurses and Allies Interest Group (INAIG). Learn more about INAIG on their website and join for free until Oct. 31, 2021. Call a membership associate at 416-599-1925 or 1-800-268-7199.
On Sept. 30, wear an orange shirt in memory of residential school victims and in support of its survivors.