MPPs hear from nurses across Ontario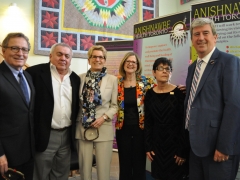 Thanks to RNAO's long-standing Take Your MPP To Work event, more than 40 MPPs from across Ontario learned about the challenges and successes of practising as an RN and NP in the province.
Provincial leaders including Premier Kathleen Wynne, PC Leader Patrick Brown and NDP Health Critic France Gélinas participated, visiting nurses in their workplaces to see first-hand the skills and expertise needed to provide high quality health care to Ontarians.
RNAO would like to thank all MPPs, RNs, NPs and nursing students who participated in this year's Take Your MPP To Work initiative.
Were you unable to participate in this year's Take Your MPP To Work? Photos are now available on RNAO's Facebook page. Remember to tag your friends.