More RNs needed: Sign action alert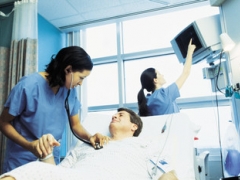 Now is the time to speak out against RN replacement.
A Canadian Institute for Health Information (CIHI) report, Regulated Nurses, 2016 revealed in June that Ontario once again had the lowest RN/NP-to-population ratio in the country – 703 RNs and NPs per 100,000 population, down from 711 in 2015.
The ratio was 839/100,000 in the rest of the country, which is 19.5 per cent higher. In Ontario, 19,126 more RNs and NPs are needed to catch up with Canada, which is alarming given evidence on the effectiveness of RNs in clinical, organizational and financial outcomes. You can read more about the benefits of RNs in our database 70 Years of RN effectiveness.
More than 22,200 have signed our action alert to stop RN replacement: Sign now
CIHI data also reveal that direct care RNs/NPs were unevenly distributed across Ontario. The ratio ranged from a low of 323/100,000 in Central West LHIN to 1265/100,000 in Toronto Central.
The nursing workforce mix continued its shift away from RNs between 2005 and 2016; the share going to RPNs rose from 21.5 per cent to 29.6 per cent, with a corresponding drop in the combined share going to RNs and NPs.