More nurse practitioners needed: Sign Action Alert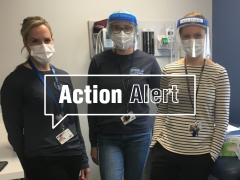 Increased utilization of nurse practitioners (NP) in Ontario's health system is long overdue. Join RNAO in our urgent call to the government to deliver immediately on long-standing promises of funding and adding:
new NP-led clinics (NPLC) to the province's existing roster of 26
more NPs to long-term care (LTC) in the attending NP role
In February, RNAO released its NP Task Force Vision for Tomorrow report. It made eight recommendations including:
increasing NP supply
optimizing NP utilization
expanding NP scope of practice
aligning the NP curriculum to changes in scope of practice and care needs
harmonizing compensation to adequately remunerate NPs across all sectors
investing in research that demonstrates NP impact
broadening insurance coverage to consistently include NPs
showcasing NP impact within the health system and to the public
RNAO's Vision for Tomorrow is a big and bold plan to increase health equity and access to health care in Ontario's post-pandemic health system. Implementation of its recommendations must happen immediately.
To add your voice to our call, please sign our Action Alert today.