Mental Illness Awareness Week: Oct. 3 - 9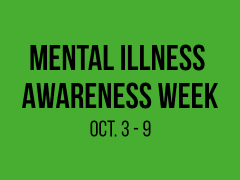 Mental Illness Awareness Week runs from Oct. 3 - 9. This week is marked nationally to fight stigma and actively stimulate conversation about mental illness. Oct. 10 marks World Mental Health Day. Like the week, the day emphasizes the importance of mental health and wellness, and is dedicated to providing mental health education and mobilizing efforts to improve mental health for all.
Mental illness affects many Canadians – whether through their own experience or that of a loved one. According to the Canadian Mental Health Association, one in five Canadians will personally experience a mental health problem or illness during their lives. The COVID-19 pandemic has exacerbated mental health struggles for many across the globe. Please remember that you are not alone. Help is available. We encourage you to visit RNAO's COVID-19 portal for details on Psychosocial support during the COVID-19 pandemic. Here you will find a list of online resources to manage physical and emotional stress during this difficult time.
RNAO dedicates substantive resources toward mental health supports. The Mental Health and Addiction Initiative provides clinical best practice guidelines (BPG) for nurses and other health-care professionals working with clients who are experiencing mental health and/or addiction issues. RNAO recognizes that nurses are not immune to these challenges.
All health-care workers experience tremendous levels of physical and emotional stress throughout the course of their professional careers and lives. The added burden of the pandemic has exacerbated mental health challenges for all health-care workers, and in particular nurses. The results of RNAO's Work and Wellbeing survey point to point to 26.2 per cent of respondents having taken time off to manage stress, anxiety or other mental health issues due to the pandemic. Yet, most chose to get support only from family and friends. The full report is available online, along with a synopsis in the latest issue of RNJ, RNAO's digital publication.
Nurses who are struggling with mental illness may benefit from the Nurses' Health Program, a voluntary program for Ontario nurses designed to encourage them to seek treatment for mental health disorders that may affect their ability to practice nursing safely.
Together, we can fight the stigmas, share inspiring stories and offer support. Join the conversation using #MIAW21.