RNs and NPs: join RNAO now and get 13 months of membership for the price of 12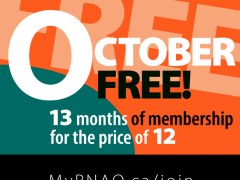 If you are an RN or NP who is not currently an RNAO member, join now and receive access to membership benefits until October 31, 2018 for no cost. Your paid membership will then continue until October 31, 2019.
RNAO membership automatically provides professional liability protection (PLP), which is required by the College of Nurses of Ontario (CNO), and cyber liability protection (CLP).