Membership testimonial videos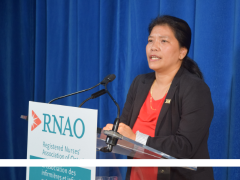 Show your RNAO pride by submitting a testimonial video.
RNAO's membership and services department would like to feature your video on RNAO's social media channels. If you'd like to participate, please provide a 10 – 30 second video clip of yourself completing one or both of the following statements:
"I'm an RNAO member because…"
"You should join RNAO because…"
If you need some inspiration, we invite you to watch this past video of a member sharing what RNAO means to them.
To successfully upload your video, please follow these two quick steps:
UPLOAD YOUR VIDEO SUBMISSION TO OUR SECURE NEXTCLOUD FOLDER by Friday, Sept. 17. Please use your RNAO MEMBERSHIP NUMBER as the file name when uploading so we can locate you in our database (e.g., 29CG8391.mp4).
Complete the online video release form.
Refer to the video upload guide for suggestions on how to best record your video submission.
Your submission may be included in a series of video compilations posted on RNAO's official social media accounts (Twitter, Facebook, Instagram, YouTube or LinkedIn). Your first name and RN or NP designation will be displayed in the video. Your last name will not be used in the video. If you do not wish to have your first name and/or College of Nurses of Ontario (CNO) registration class displayed, but still wish to submit your video, please email info@RNAO.ca separately to indicate this preference using the subject heading RNAO MEMBER VIDEO.