Membership now only $50; new grads join for free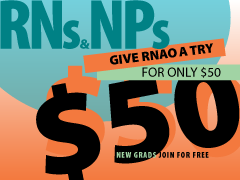 For the rest of this membership year, RNs and NPs can enjoy all the benefits of their professional association for just $50. New grads* can join for free.
This includes professional liability protection (PLP), up to a 40 per cent discount on education and professional development opportunities, career counseling services and networking with local and specialty groups.
When non-members join RNAO, they become part of an association of 41,000 voluntary members whose strong collective voice is speaking out for a stop to RN replacement, a call for all nurses to be included in Bill 163 (the province's legislation recognizing post-traumatic stress disorder as a work-related illness for first responders), support for NP compensation parity, attending NPs in long-term care homes, full-time employment, and a call to protect health professionals from retaliation when speaking out about patient safety.
New graduates who sign up today will also receive another complimentary membership from Nov. 1, 2017 to Oct. 31, 2018.
Encourage your colleagues or friends to sign up online for this special offer or call 1-800-268-7199 to speak with a membership associate. Inviting others to join can also earn you RNAO rewards when non-members list your name under "recruiter" on the application form.
*Those who have graduated from an undergraduate nursing program, leading to initial "RN" registration with the College of Nurses of Ontario (CNO), within the past 12 months or plan to graduate in the spring of 2017.