Members speak out: July 2021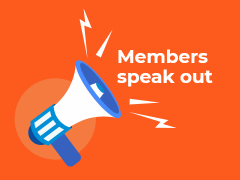 #NursesVoicesMatter
That's why RNAO encourages its members to speak out on key nursing- and health-related issues in the media. The collective voice of nurses drives change to improve the health of all.
A snippet of July stories featuring RNAO members:
Homayra Ahmed in CTV News:
"This has been my biggest fear entering the workforce as a new grad."
Sara Fung on CP24:
"I can't think about a better incentive than making (the COVID-19 vaccine) mandatory."
Louela Manankil-Rankin and Tammie McPharland in North Bay Nugget:
Manakil-Rankin: "To be nominated by her students was "a gift," she says, adding the nomination and award represents the meaning of being a "good" teacher.
McPharland: She considers her role as a nurse educator to be a privilege and hopes her students learn as much from her as she does from them.
Interested in speaking with the media? Complete RNAO's survey.