Members gather for assembly meeting on Feb. 21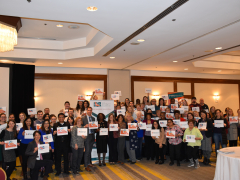 Following our vibrant and successful Queen's Park Day, nurses from different regions/chapters and interest groups gathered on Feb. 21 for RNAO's winter assembly meeting, to provide an update on their communities and to hear details about important changes coming to Ontario's health system.
During the meeting, Phil Graham, executive lead for the Ontario Health Teams (OHT) Division gave a comprehensive overview about OHTs and what nurses can expect from OHTs being formed. Graham congratulated RNAO for our work with OHTs by actively engaging with them in the implementation of RNAO's best practice guidelines and transforming OHTs into Best Practice Spotlight Organizations (BPSO OHT). Members were also given an opportunity to ask questions and provide their feedback on the upcoming changes.
To learn more about OHTs, please register for our upcoming webinar on March 4 called Health System Transformation: Making Interprofessional Teams Shine. You can also watch archived webinars provided each month.

In the afternoon, RNAO's policy, communications and IT teams also presented on how the policy section will be modernized when RNAO's new website is launched at RNAO's Annual General Meeting on June 11-13. Members had a chance ask questions and give their thoughts on the new look of the policy section.