Media Awards: Help RNAO honour outstanding journalists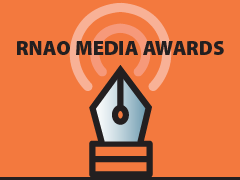 COVID-19 dominated the news headlines this year and journalists worked exceptionally hard reporting on the thousands of people who died from the virus, on the nurses and other health providers doing their best to take care of those who got sick and on key policy issues ranging from a shortage of personal protective equipment and the importance of testing and contact tracing to the failure by successive governments to improve staffing and funding in long-term care homes. The news stories gave nurses and other health-care professionals an opportunity to speak out.
If you want to nominate a reporter, host or producer whose work deserves to be celebrated, learn more about RNAO's competition and celebrate journalists who make a difference this year by nominating them for a Media Award.
Awards will be handed out in several categories for newspaper, radio, television, and online journalism.
If you've read, watched or listened to a news story that resonated with you, considering nominating a journalist via our online submission form. Be sure to contact the journalist first, to make sure they want to be a part of the competition.
Eligible stories must have been published or broadcast during the 2020 calendar year.

Submission deadline is Friday, Feb. 26, 2021.