Media Awards: Help RNAO honour outstanding journalists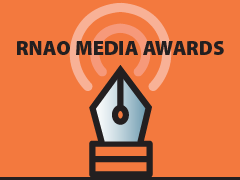 Throughout 2020, journalists worked exceptionally hard to report on COVID-19 and its impact on nurses, other health providers and the public. These news stories gave members and other health-care professionals an opportunity to speak out.
To honour these journalists, consider nominating a reporter, host or producer whose work deserves to be celebrated. Awards will be handed out in several categories for newspaper, radio, television and online journalism.
Learn more about RNAO's Media Awards online and see if the story you want to nominate is eligible.
Stories must have been published or broadcast during the 2020 calendar year.
Submission deadline is Feb. 26, 2021.