Media Awards: Help RNAO honour outstanding journalists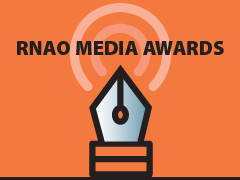 Compelling, well-researched news stories shape public dialogue on nursing and health issues, and have the power to influence change. You can help RNAO celebrate journalists who make a difference by nominating one for an RNAO Media Award.
Start thinking of who you would like to nominate when the nominations open for the association's annual Media Awards competition. Awards will be handed out in several categories for newspaper, radio, television, and online journalism.
Be sure to contact the journalist first, to make sure they want to be a part of the competition.
Eligible stories must have been published or broadcast during the 2019 calendar year.
Stay tuned for more details. If you have any questions, please email Marion Zych at mzych@RNAO.ca.