Media Awards: Help RNAO honour outstanding journalists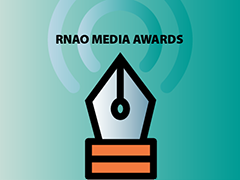 Reporters shape public dialogue on nursing and health issues and have the power to spark positive change. This year, reporters and journalists reported on many stories of interest to RNAO and its members. The Windsor Star published a story on a nursing student's new app that provides help to overdose victims amid a growing opioid crisis and The Canadian Press published a story on an inquiry into a homeless man's death due to lack of social supports.
Think about stories that have touched you and consider nominating reporters for an RNAO Media Award.
Awards will be handed out in 10 categories for newspaper, radio, television, magazine and online journalism. Eligible stories must have been published or broadcast during the 2018 calendar year.
If you've read, watched or listened to a news story that resonated with you, contact the journalist, let them know that you want to nominate that journalist, and if they agree, nominate them by using our online submission form.
The deadline to nominate a journalist is Jan. 11, 2019.
For more information, visit RNAO.ca/MediaAward or contact Jonathan Sher at 647-217-2689.