Mary Simon is Canada's first Inuk governor general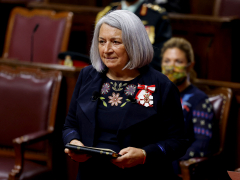 RNAO is thrilled that Mary Simon has officially been sworn in as Canada's 30th governor general and is the first Indigenous person ever to hold the position. On July 26, 2021, Simon took the oath to become the governor general of Canada at the Senate chamber in Ottawa.
Simon reflects Canada's diverse population and this is an important step forward in reconciliation.
RNAO looks forward to Simon's leadership in bringing Canadians together to honour the past and pave the path forward.