Mark your calendar: the next COVID-19 Webinar Series is on Sept. 13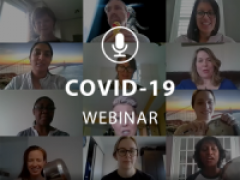 As the pandemic continues to interfere with individuals' lives, RNAO remains committed to providing you with accurate information and updates on COVID-19 and its variants.
Join RNAO CEO Dr. Doris Grinspun at the next COVID-19 Webinar Series event on Sept. 13 at 2 p.m. ET. Grinspun will provide the latest news on pressing issues, such as RNAO's most recent calls to the government on mandatory vaccination for health-care workers, teachers and education staff, as well as mandatory vaccine passports for everyone with the exception of those medically exempt. Interested in adding your voice to these calls? Sign RNAO's Action Alert.
Learn more about the COVID-19 Webinar Series and register for free online.