Long-Term Care COVID-19 Commission report receives thumbs up from RNAO: Will the government act?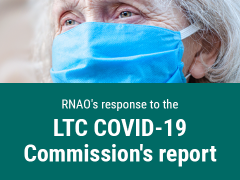 The Ontario government owes an apology to the families of the 3,758 long-term care (LTC) residents lost to COVID-19 and to the staff that valiantly cared for them under deplorable conditions – including 11 who lost their own lives in the line of duty.
In a report released on April 30 by the LTC COVID-19 Commission, the commission outlines systemic failings in long-term care that RNAO has raised for over two decades including since 2018 with the Ford government.
RNAO issued early warnings in February 2020 in view of the unfolding catastrophe in Italy. It called on the government to adapt the precautionary principle and to take measures to protect residents in LTC.
The independent commission, led by Associate Chief Justice Frank Marrocco, outlines recommendations on chronic underfunding of the sector, severe staffing shortfalls and infection control deficiencies.
While the government has already pledged to introduce four worked hours of direct nursing and personal care for residents, it is not taking meaningful action. The commission's report reinforces RNAO's call for an accelerated process to increase staffing and achieve the required skill mix endorsed by the commission for safe and dignified care.
We urge all nurses to sign the Action Alert calling on the government to enshrine in legislation and immediately implement the urgent staffing and skill mix recommendations, infection prevention and control imperatives, and the needs of residents and their essential care partners.
For more information, please read our media release.