Long-term care BPSO recognized with three awards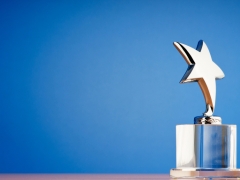 One of RNAO's long-term care Best Practice Spotlight Organizations (BPSO) is being recognized for its work. The F.J. Davey Home received Workplace of the Year during a conference organized by the Ontario Long Term Care Association (OLTCA) in November.
The home and its staff were also awarded the Nursing Leadership Award and the PSW Leadership Award.
F.J. Davey Home, which is located in Sault Ste. Marie, has 374 beds and is designed to provide its residents with a homelike environment. The nursing home joined RNAO's long-term care BPSO program in April 2018 and is implementing several BPGs including Person-and Family-Centred Care and Preventing and Addressing Abuse and Neglect of Older Adults: Person-Centred, Collaborative, System-Wide Approaches.
RNAO would like to congratulate F.J Davey Home, BPSO Liaison Kerry Gartshore and BPSO coach and coordinator Freda Poirier.
For more information about the long-term care BPSO program, please visit https://rnao.ca/bpg/bpso/ltc