Recruit three members by Sept. 15 and get a book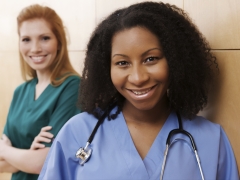 Do you know a nursing colleague or friend who is not a member yet?
Recruit three new RN/NP members* before Sept. 15 and you will not only get a $20 RNAO gift certificate for each member, but also RNAO's best practice guideline program book Transforming Nursing Through Knowledge, published by Sigma.
Now is the best time for your colleagues to join RNAO. By signing up today for the 2018-2019 membership, they will get professional liability protection (PLP) and other member-only benefits for September and October for free.
When RNAO's membership grows bigger, our nursing voice grows stronger to speak out for areas that are important for nursing and health.
Invite your friends and colleagues to join today by visiting myRNAO or by calling RNAO Home Office at 1-800-268-7199.
*
To qualify for the free book, new members must be RNs/NPs who have either never been an RNAO member before, or have not been a member within the last two (2) years.