Liberals win minority government in federal election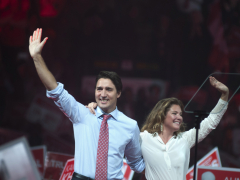 After more than 17 million Canadians cast their vote, the Liberal Party won enough seats for a minority government on Oct. 21 giving Prime Minister Justin Trudeau a second term.
Winning 157 seats, the Liberals surpassed the Conservatives (121 seats), Bloc Québécois (32 seats), New Democratic Party (24 seats) and Green Party (3 seats).
Throughout the federal election, RNAO members actively engaged people to vote for a healthy Canada and encouraged the parties in the election taking part to implement the nine recommendations in our federal platform.
These recommendations call on the government to implement a universal pharmacare plan, re-instate the role of a national chief nursing officer, take action on the opioid crisis and address the long-standing inequality and discrimination faced by Indigenous People. We also called for concrete measures to tackle climate change.