Let's Talk about Anti-Black Racism and Discrimination in Nursing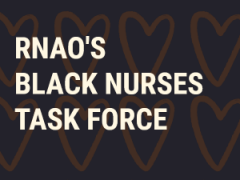 To explore the power of mentorship for Black nursing students in academic settings, RNAO's Black Nurses Task Force is hosting a webinar on Feb. 16, 2021 between 6:30-8 p.m. ET
The webinar will review strategies for establishing goals, expectations and boundaries in a mentor/mentee relationship; identify enablers and barriers to Black nursing students' access to mentors and examine how mentorship experiences for Black nursing students are impacted by the diversity of the faculty and student population.
To register, please go online.
This webinar is part of the webinar series Let's Talk about Anti-Black Racism and Discrimination in Nursing that helps inform RNAO's Black Nurses Task Force.
On Jan. 18, the task force hosted its seventh webinar of its monthly webinar series to increase participants' understanding of Black nurses' access to and experiences of mentorship; discuss what constitutes a successful mentor/mentee relationship; and describe the value, benefits and outcomes of mentorship for mentors, mentees and for health-care organizations.
Panelists for the webinar included Michele James, vice-president of the People and Transformation of Scarborough Health Network; Ryan Hinds, community engagement lead for the Toronto Central LHIN; Sandra Robinson, NP, CNO Council president and manager at Toronto Western Hospital and Sharon Nwandmadi, RN and nurse manager for Bayview Family Practice.
To learn more, please watch the archived webinar online.