Let's Talk about Anti-Black Racism and Discrimination in Nursing: Register by March 15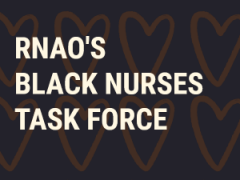 To explore the value, benefits and outcomes of mentorship opportunities for Black nursing students, RNAO hosted a webinar on Feb. 16 dedicated to learning about the power of mentorship in nursing education.
As part of the webinar series Let's Talk about Anti-Black Racism and Discrimination in Nursing, the webinar featured presenters such as Dr. Bukola Salami, associate professor at the Faculty of Nursing at the University of Alberta who spoke about the HIPP Research Program and Black Youth Mentorship and Leadership Program. The programs have helped mentor and train diverse talented researchers as well as empower Black youths to contribute meaningfully to the society.
Ola Thomas Obewu, a third-year nursing student at York University and a member of RNAO's Black Nurses Task Force panelist and Birgit Umaigba, a clinical instructor at Centennial College also shared their journey to becoming nurses and the Black mentors/professors that helped influenced them.
The monthly webinar series is organized by RNAO's Black Nurses Task Force to help inform their report. It will include recommendations and calls to action for government, partners, regulators and institutions to recognize and address anti-Black racism and how to combat it.
To learn more, please see the archived webinar online.
You can also register for our next webinar scheduled for March 15, 2021.